Welcome to our sweet sanctuary where we celebrate the heavenly flavors of coconut cake. Join us on a tantalizing journey as we explore the origins of this delectable dessert and share a mouthwatering recipe that will transport you to a tropical paradise. With its moist texture, aromatic coconut, and luscious syrup, this syrupy coconut cake is a delightful indulgence for any occasion. Let's dive into the world of coconut cake and discover the secrets behind its irresistible allure.
Unveiling the Allure of Coconut Cake
Coconut cake, a confection beloved by many, is renowned for its tropical essence and captivating flavors. With a rich history rooted in regions where coconuts thrive, such as the Caribbean and Southeast Asia, this cake has become a symbol of indulgence and exotic allure. The combination of moist cake layers, creamy coconut frosting, and a sweet syrupy drizzle makes coconut cake a true crowd-pleaser. Its popularity extends far and wide, captivating taste buds with every scrumptious bite.
Crafting Your Syrupy Coconut Cake
Are you ready to embark on a baking adventure filled with coconutty goodness? Gather the ingredients to create your own syrupy coconut cake masterpiece:
For the Syrup:
800 g Sugar
1 lt water
Juice of half a lemon
For the Cake:
400 g yoghurt
5 eggs
250 g sugar
250 g margarine
200 g fine semolina
180 g all-purpose flour
1 tsp baking powder
100 g grated coconut
50 g cognac
A pinch of salt
Preparing the Syrup
Start by preparing the luscious syrup that will infuse your coconut cake with a delightful sweetness. Place a large pot over heat and add the sugar, water, and freshly squeezed lemon juice. Stir the mixture until the sugar dissolves, and bring it to a gentle boil. Let the syrup simmer for approximately 3 minutes, allowing the flavors to meld together. Once done, set the syrup aside and let it cool, ready to be poured over your freshly baked cake.
Crafting the Coconut Cake
Now it's time to create the star of the show—the moist and fragrant coconut cake. In a mixing bowl, combine the sugar and eggs, and beat them together until creamy and well incorporated. In a separate bowl, mix the yoghurt, melted margarine, and cognac to create a flavorful liquid mixture.
Add the fine semolina, grated coconut, and a pinch of salt to the liquid mixture, stirring until everything is combined. In another bowl, combine the baking powder and all-purpose flour, then gradually incorporate this dry mixture into the bowl of wet ingredients. Stir gently until the batter is smooth and homogeneous.
Baking and Assembling
Preheat your oven to 355°F (180°C) to ensure the perfect bake. Grease a baking pan with butter, then pour the coconut cake batter into it, spreading it evenly. Place the pan in the preheated oven and bake for approximately 40-50 minutes, or until a toothpick inserted into the center comes out clean.
Once the cake is baked to golden perfection, remove it from the oven. While the cake is still warm, pour the chilled syrup over it, allowing the cake to absorb the delightful sweetness. Watch as the syrup seeps into the layers, imparting a moist and delectable texture.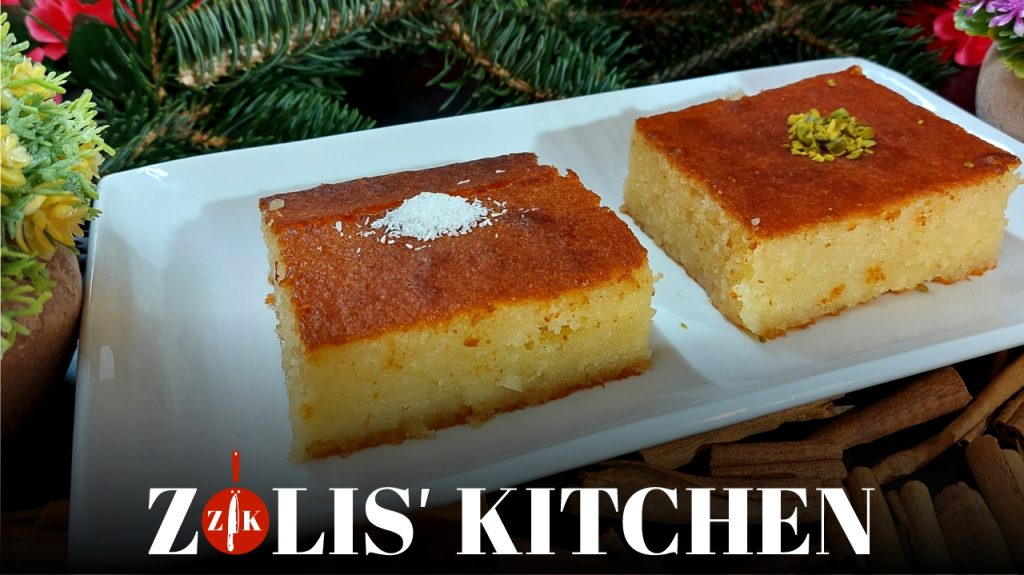 A Slice of Tropical Paradise
There you have it—a syrupy coconut cake that embodies the exotic flavors of distant shores. Each forkful offers a taste of paradise, with its moist crumb, aromatic coconut, and luscious syrup. Whether you're indulging in a slice on a sunny afternoon or sharing it with friends and family during special celebrations, this coconut cake is sure to transport you to a tropical haven of flavors.
So, gather your ingredients, preheat your oven, and let the captivating aroma of coconut fill your kitchen. Get ready to savor a slice of pure bliss with this irresistible syrupy coconut cake recipe. Elevate your baking skills and treat yourself to a taste of the tropics. Enjoy!
Nutrition Facts
20 servings per container
---
Calories409
Amount Per Serving% Daily Value *
Total Fat 13.3g

20

%
Cholesterol 42mg

15

%
Sodium 157mg

7

%
Amount Per Serving% Daily Value *
Potassium 138mg

4

%
Total Carbohydrate 69.1g

23

%

Dietary Fiber 1.1g

4

%
Sugars 54.3g

Protein 5g

10

%
Calcium

60

%
Iron

2

%
Vitamin D

4

%
* The % Daily Value tells you how much a nutrient in a serving of food contributes to a daily diet. 2,000 calories a day is used for general nutrition advice.