Indulge in the ultimate comfort food transformation with our Cheesy Bacon Potato Roll recipe. Discover the fusion of creamy cheese, smoky bacon, and tender potato slices, expertly rolled to perfection. Elevate your cooking repertoire with this modern twist on a classic favorite.
Elevating Comfort Food with a Cheesy Bacon Potato Roll
Experience the time-honored comfort of your favorite dishes, reinvented in a delightfully flavorful twist. Introducing the Cheesy Bacon Potato Roll—a creation that takes the essence of comfort food and elevates it to new heights. A celebration of creamy cheese, smoky bacon, and tender potatoes, this dish is a delightful fusion of flavors that embodies warmth and satisfaction. Get ready to embark on a culinary journey that reimagines comfort food classics with a modern, mouthwatering allure.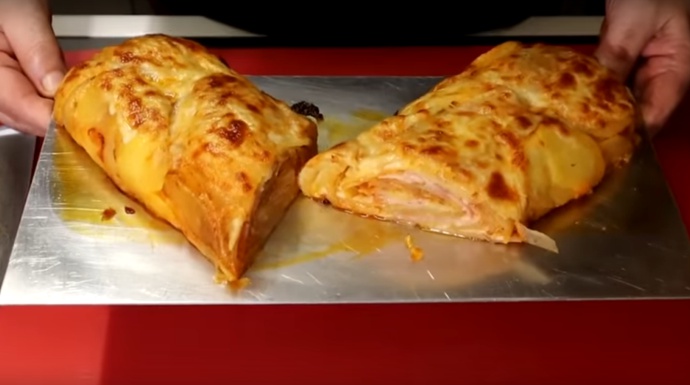 Crafting the Perfect Cheesy Bacon Potato Filling
Unveil the art of crafting the heart of this dish: the irresistible Cheesy Bacon Potato filling. Begin by meticulously slicing potatoes into delicate, paper-thin pieces, setting the stage for layers of creamy goodness. In a well-prepared baking pan, these slices become a canvas for flavor. Sprinkled with a touch of salt, pepper, and paprika, they gently bake to perfection, offering a foundation of tender texture and a hint of warmth. It's the careful interplay of these elements that lays the foundation for what's to come—a symphony of flavors that promises to delight the senses.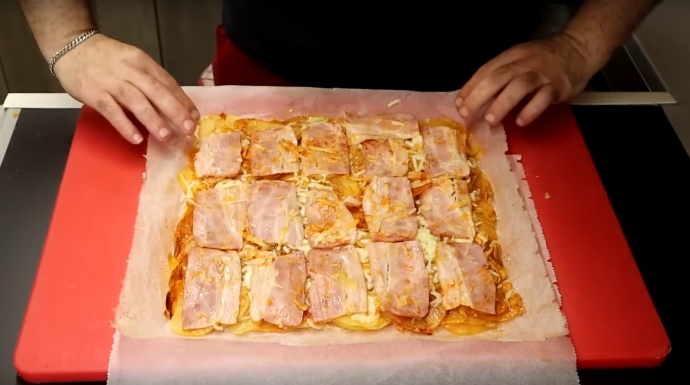 Rolling and Baking: From Ingredients to Irresistible Dish
Step into the heart of the culinary process, where layers of cheese, bacon, and potato slices meld into a harmonious roll of deliciousness. The grated meltable cheese, a medley of flavors such as Parmesan or Greek graviera, forms a melty bridge between the smoky bacon and the tender potato slices. This mouthwatering fusion is then carefully rolled using parchment paper, creating a culinary masterpiece ready to embrace the oven's warmth. As it bakes at 200°C (390°F), the cheese caramelizes and the flavors meld, resulting in an irresistible exterior that encases the creamy, savory interior. The result? A Cheesy Bacon Potato Roll that boasts the perfect balance of textures and tastes.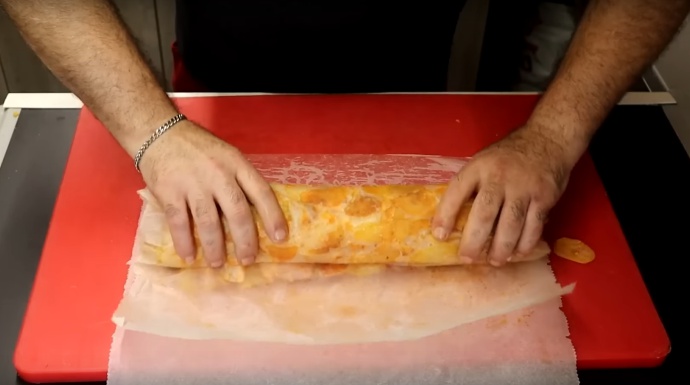 Serving and Savoring: Cheesy Bacon Potato Roll Delight
The moment has arrived to indulge in the savory delight that is the Cheesy Bacon Potato Roll. As you slice into this golden treasure, each serving reveals layers of tender potatoes, smoky bacon, and luscious cheese. To elevate the experience, consider pairing your creation with a refreshing side salad or a tangy dipping sauce—adding a touch of brightness that complements the comforting flavors. Whether enjoyed as a hearty appetizer or a satisfying main, the Cheesy Bacon Potato Roll is a reminder of the joys of savoring the familiar, reinvented with a burst of culinary creativity. Allow yourself to embrace the comfort of every bite and savor the satisfaction that comes with mastering a modern classic.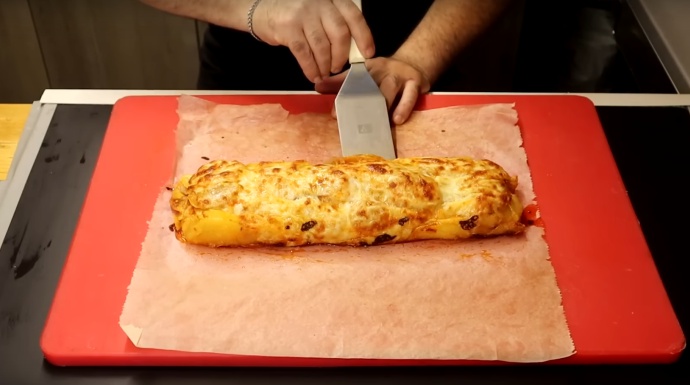 Nutrition Facts
8 servings per container
---
Calories342
Amount Per Serving% Daily Value *
Total Fat 22.3g

34

%
Cholesterol 54mg

18

%
Sodium 950mg

40

%
Amount Per Serving% Daily Value *
Potassium 447mg

13

%
Total Carbohydrate 13.5g

5

%

Dietary Fiber 1.8g

4

%
Sugars 0.9g

Protein 22.6g

44

%
* The % Daily Value tells you how much a nutrient in a serving of food contributes to a daily diet. 2,000 calories a day is used for general nutrition advice.