Nutrition Facts
20 servings per container
---
Calories331
Amount Per Serving% Daily Value *
Total Fat 8.5g

13

%
Sodium 72mg

3

%
Amount Per Serving% Daily Value *
Potassium 134mg

4

%
Total Carbohydrate 59g

20

%

Dietary Fiber 1.3g

4

%
Sugars 28.5g

Protein 4.2g

8

%
* The % Daily Value tells you how much a nutrient in a serving of food contributes to a daily diet. 2,000 calories a day is used for general nutrition advice.
The rich tapestry of Greek culinary heritage is interwoven with delightful recipes that carry stories of tradition and meaning. Among these treasured delights is the "Fanouropita," a Greek fasting cake that holds a special place in the hearts of many. This aromatic treat is infused with orange zest, cinnamon, and raisins, embodying the essence of Mediterranean flavors. Join us on a journey to explore the essence of this time-honored delicacy and create your own Fanouropita with our easy-to-follow recipe.
1. Gathering the Ingredients: The heart of any recipe lies in the ingredients that come together to form a symphony of taste. For the Fanouropita, we need a medley of flavorful elements. From the zesty orange juice to the aromatic cinnamon powder, each ingredient carries a tale of its own. Gather the freshest oranges, plump black raisins, and the finest self-raising flour to embark on this culinary adventure.
2. Blending the Flavors: In a bowl, let the magic begin as you combine the sugar, seed oil, and the essence of orange juice. The citrusy zest and a hint of cinnamon are added, elevating the aroma to new heights. A touch of baking soda and a splash of cognac complete the symphony of flavors. As you stir with care, the batter takes shape, each element merging into a harmonious dance.
3. The Raisin's Tale: In a separate bowl, allow the raisins to soak in the warmth of cognac, unfolding their rich flavors. As they absorb the essence, they are gently incorporated into the batter, infusing every bite with their sweet allure.
4. Baking with Love: Preheat the oven to the perfect temperature, and with eager anticipation, pour the batter into a lovingly greased and lined pan. Spread it with precision, ensuring even distribution. As it bakes, your kitchen fills with a tantalizing aroma, evoking memories of family gatherings and celebrations.
5. A Time-Honored Tradition: As the Fanouropita emerges from the oven, its golden hue delights the eyes. Respectfully covered with a soft towel, it cools, awaiting the final touch. The finishing sprinkle of icing sugar crowns the cake with elegance, a symbol of purity and sweetness, much like the essence of Greek hospitality.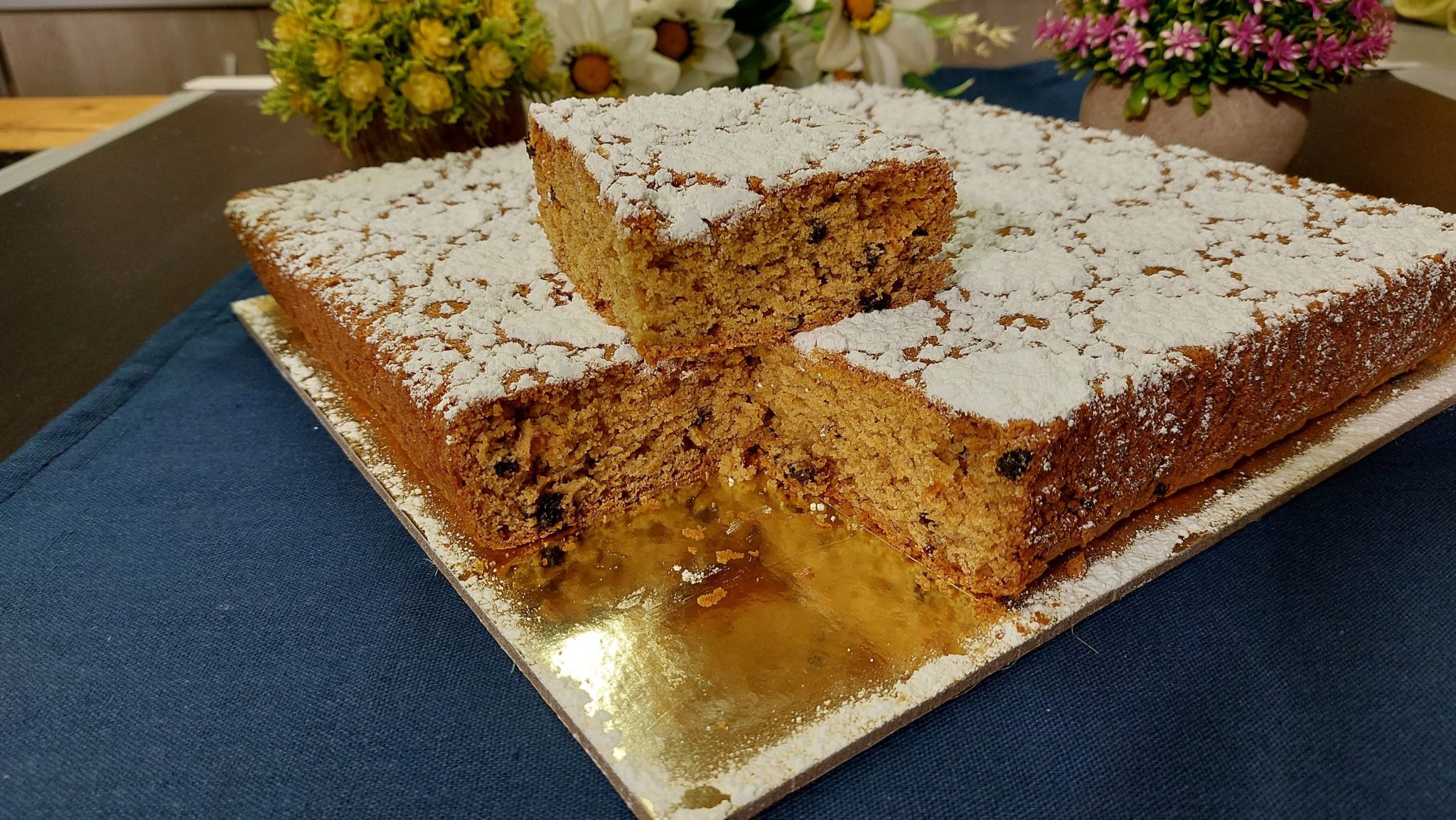 In every bite of the Fanouropita, you taste the cherished customs of Greek culture. The blend of flavors and the warmth it brings is a reminder of the bonds shared with family and friends. So, delve into this enchanting tradition and savor the joy of creating a Fanouropita, one that holds the essence of Greece's culinary legacy. With every delightful slice, you'll discover the love and spirit of a time-honored recipe, passed down through generations.