Introduction to the Irresistible Chocolate Tart
Exploring the Art of Crafting a Divine Chocolate Tart
Indulge your senses in the world of culinary delights with our exquisite chocolate tart recipe. In this article, we'll guide you through the step-by-step process of creating a heavenly chocolate tart that combines the rich flavors of both white and milk chocolate. Whether you're an aspiring baker or a seasoned pastry enthusiast, this chocolate tart recipe is sure to satisfy your cravings and impress your guests.
Crafting the Perfect Chocolate Tart Crust
Mastering the Art of Crispy Tart Crust
Every great chocolate tart begins with a flawless crust. Follow these simple steps to create a buttery, melt-in-your-mouth base that will complement the luscious chocolate fillings.
Mixing and Kneading the Dough: In a bowl, combine all-purpose flour, sugar, vanillin, egg, butter (or margarine), and a hint of cognac. Mix and knead the ingredients until a cohesive dough forms.
Preparing the Crust: Place the dough on parchment paper and let it rest for 10 minutes. Roll out the dough using a rolling pin and transfer it to an 11-inch tart pan. Trim the edges to fit the pan perfectly.
Blind Baking: Cover the dough with cling film and fill the tart pan with rice to prevent puffing. Preheat the oven to 355°F (180°C) and bake the crust for 15 minutes. Remove the cling film and rice, then bake for an additional 10 minutes until golden brown.
Cooling the Crust: Once baked, allow the crust to cool and set aside. This crisp foundation will be the canvas for our delectable chocolate fillings.
Heavenly Chocolate Fillings: A Symphony of Flavors
Elevating Your Chocolate Tart with Two Luxurious Fillings
Now, let's dive into the heart of our chocolate tart: the sumptuous chocolate fillings that will captivate your taste buds.
White Chocolate Filling: In a small pot over low heat, combine heavy cream and white couverture chocolate. Stir until the chocolate fully melts into the cream. Keep the mixture warm by placing the bowl in a larger bowl with hot water.
Milk Chocolate Filling: Similarly, melt heavy cream and milk couverture chocolate in a pot over low heat. Stir until the chocolate is completely incorporated into the cream, creating a velvety consistency.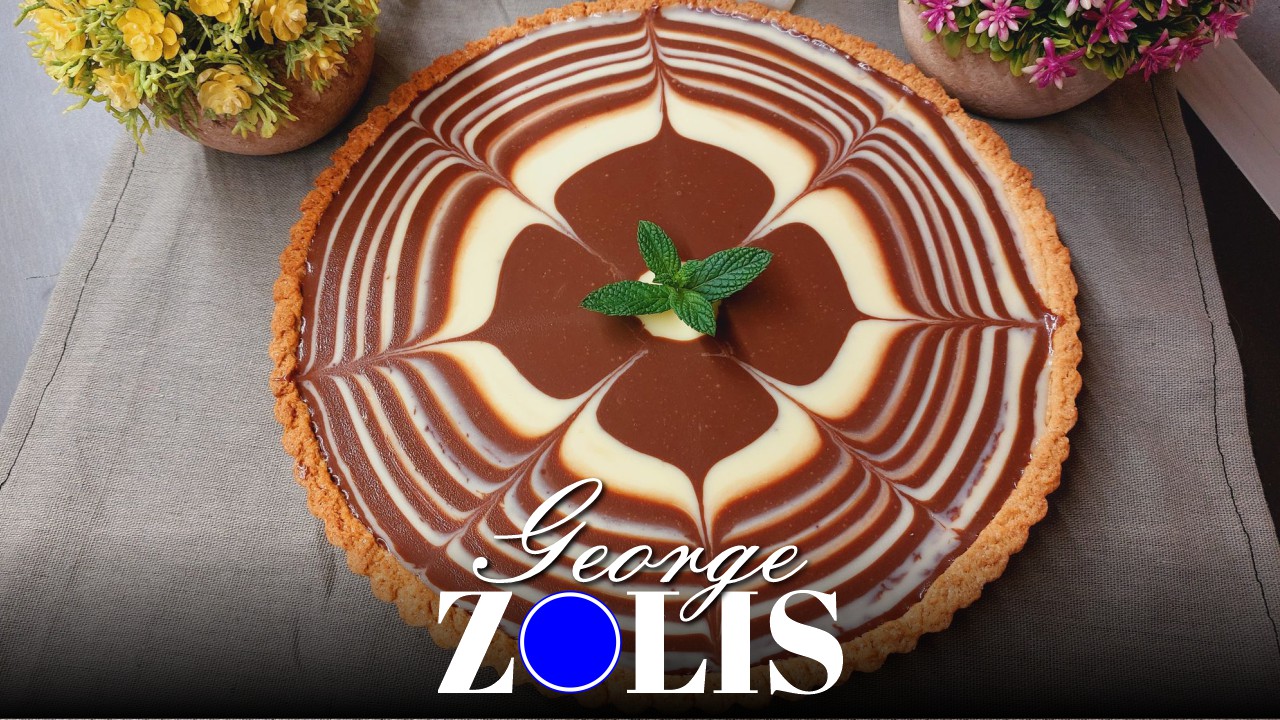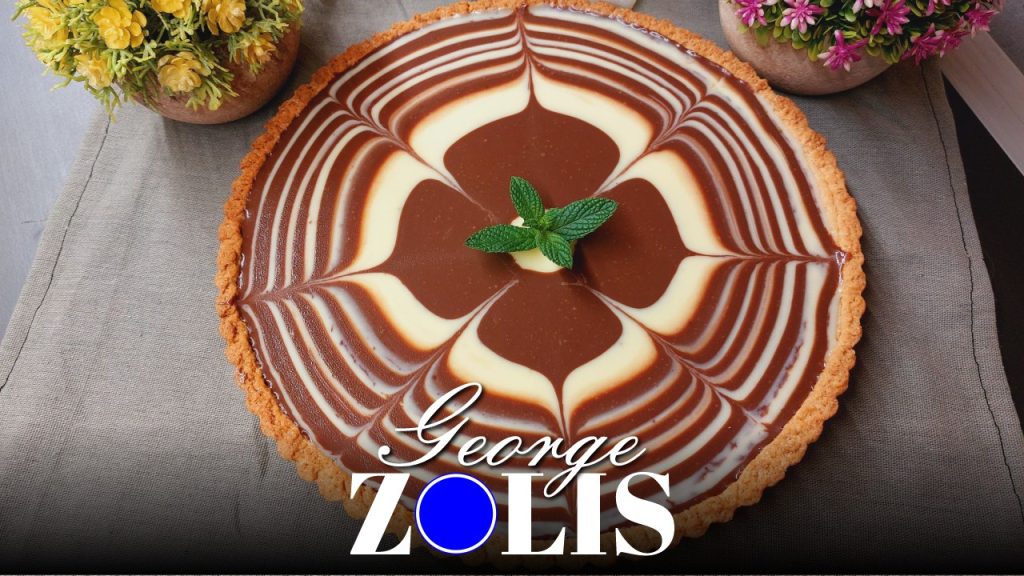 Artful Assembly and Final Touches
Creating an Edible Masterpiece with Chocolate Marbling
It's time to bring your chocolate tart to life by assembling and garnishing it for a truly enchanting presentation.
Alternate Filling Pours: Pour the liquid white chocolate and milk chocolate alternately into the center of the tart, creating a mesmerizing marbled effect that plays with both flavors.
Shaping the Tart: With a toothpick, gently pull the chocolate from the edge towards the center, shaping the marbling pattern to your liking. This step adds an artistic touch to your creation.
Chilling to Perfection: Place the tart in the refrigerator, allowing the flavors to meld and the chocolate to set. This cooling process ensures that each slice delivers a delectable, velvety texture.
With these steps, you've successfully crafted an extraordinary chocolate tart that seamlessly balances the allure of white and milk chocolate. From the exquisite crust to the harmonious fillings, every bite promises a symphony of flavors that will leave your taste buds singing. Embrace your inner pastry artist and share this culinary masterpiece with your loved ones for a truly unforgettable experience.
Nutrition Facts
16 servings per container
---
Calories416
Amount Per Serving% Daily Value *
Total Fat 26.9g

40

%
Cholesterol 72mg

24

%
Sodium 94mg

4

%
Amount Per Serving% Daily Value *
Potassium 150mg

5

%
Total Carbohydrate 38.6g

13

%

Dietary Fiber 1.2g

4

%
Sugars 22.2g

Protein 5g

10

%
Calcium

83

%
Iron

1

%
Vitamin D

19

%
* The % Daily Value tells you how much a nutrient in a serving of food contributes to a daily diet. 2,000 calories a day is used for general nutrition advice.